Tiny robot walks, crawls, jumps and swims and we can image it!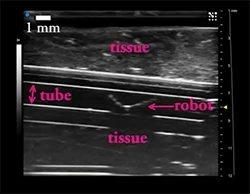 Submitted by Dr. Sandra Meyer, Senior Applications Specialist, Europe, FUJIFILM VisualSonics.
---
At FUJIFILM VisualSonics, we are very excited to support the incredible science by an innovative group of researchers at Max Planck Institutes in Germany. This team has developed a pinworm-like robot that can walk, jump, crawl and swim in water in hopes that it can be used for targeted drug delivery and to improve minimally invasive surgical procedures.
So how does it work? The robot is small-scale and soft-bodied and is combined with a set of electromagnets that generate actuating magnetic fields to control its morphology and generate different modes of locomotion. This set-up allows the researchers to steer the robot in a desired direction. They can also switch between various actions such as crawling, swimming and rolling. In order to control the robot correctly, the researchers need to monitor its surrounding and movement, which is easy when the robot is tested on a surface or just in water.
Moving towards medical applications, they required an imaging device that allowed visualization of these small robots in vivo and in real time. The Vevo 3100 fit their needs perfectly as it integrates nicely into their set-up and offers very high spatial and temporal resolution along with ease-of-use. These researchers currently use our ultrasound system to image their robots within concealed areas in various phantoms (e.g. ex vivo chicken muscle tissue) and are heading towards an in vivo ultrasound-guided operation.