Power Doppler Mode
Blood flow in greater detail using Power Doppler Mode
Power Doppler Mode provides a visual overview and general quantification of vasculature.
Measurement tools in Power Doppler Mode can calculate percent vascularity - an index of relative vascular density
Small changes in organ vascularity can be detected with Power Doppler imaging and monitored with progression and regression of pathology or as a response to therapy
Power Doppler is more sensitive than Color Doppler Mode, which makes it the preferred tool for oncologic applications and assessment of percent vascularity.
Power Doppler imaging can be done in conjunction with 3D-Mode to provide volumetric information.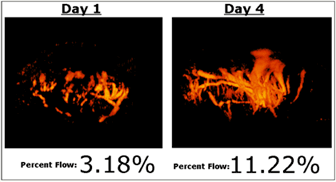 Power Doppler Mode imaging can assess tumor vascularity in 2D and 3D. Image shown is acquired with respiratory gating to minimize motion-artifacts induced by respiratory motion.
Longitudinal study of a tumor using Power Doppler imaging demonstrating distinct phases of tumor associated angiogenesis development in a mouse. Images courtesy of Hastie, Chambers, Lacefield and Fenster, Robarts Research Institute, London.