Vevo News Issue 36
In this issue of Vevo News:
(Navigate to specific sections using the Table of Contents below.)

Executive Insight: Greg Nesbitt - Supporting Scientists on the Front Lines of Global Health Challenges
Software Update: V3.2.5 for Vevo 3100/LAZR-X and Vevo LAB
Service Announcement: New Service Plans available for Vevo 3100 customers
Product Announcement: PA EKV: Measure Oxygenation in the Heart with Greater Precision
Vevo Travel Awards: Upcoming Submission Deadlines
Upcoming Webinar: Non-Invasive Measurement of Myocardial Ischemic Zone in the Mouse Using High Resolution Cardiac Ultrasound
Recorded Webinar: Photoacoustic and Fluorescent Molecular Imaging of Bacterial Infections
Vevo Tips and Tricks: Joost shares How to Import and Design your Custom Spectrum Signature
Upcoming Grants: Stay informed of upcoming deadlines
Upcoming Events: February - March 2020
---
EXECUTIVE INSIGHT: GREG NESBITT, VP GLOBAL HIGH FREQUENCY
Supporting Scientists on the Front Lines of Global Health Challenges


The medical research community is constantly at work solving both near and long term health challenges faced by society. Occasionally, we are called to help on more emergent issues. As this is being written, the Coronavirus is the top headline in the news globally. There is a scramble to get a vaccine developed as soon as possible. Members of our community are answering the call to help.

In the United States, 'vaping' related deaths have created an urgent government response. The National Institute of Health has allocated emergency funding to study vaping and lung injury. Vevo users have already begun to get involved in this effort. These challenges know no borders or specific demographics. They are societal and global in nature. We are proud to support scientists who stand on the front lines solving problems and improving health for all.

- Greg Nesbitt

Back to top.
---
SOFTWARE UPDATE
V3.2.5 for Vevo 3100/LAZR-X and Vevo LAB
This download is available to registered users only.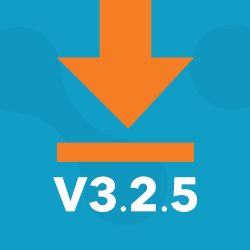 IMPORTANT: IMPORTANT: Regardless of available system features, we recommend that all customers update their software to this release. Doing so will mitigate potential issues with user experience and enable access (dependant on licensing) to all of the features in the applications.
FUJIFILM VisualSonics is pleased to announce the release of updated versions of software for the Vevo 3100 / LAZR-X Imaging Systems and the Vevo LAB Analysis Workstation. These software updates, both of which are V3.2.5, address a number of minor issues and also enable access to several exciting new capabilities, including:
Auto LV: A brand new, significantly improved version of the B-Mode AutoLV analysis algorithm. This tool brings the power of Artificial Intelligence algorithms for image analysis to preclinical research.*
PA EKV Software (Photoacoustic ECG-gated Kilohertz Visualization Mode): Increases temporal resolution for photoacoustic imaging, allowing visualization of dynamic changes in photoacoustic signal in the heart over the entire cardiac cycle. See below.*

Live Unmixing: The new Live Unmixing feature (available as part of Vevo Multiplexer) allows one spectrally unmixed component to be displayed live during multispectral imaging. Includes oxygen saturation and total hemoglobin measurements for non-OxyHemo multi-wavelength datasets. For use in PA-Mode.*
*Available for purchase

DOWNLOAD HERE
Back to top.

---
---

SERVICE ANNOUNCEMENT:
New Service Plans Available for Vevo 3100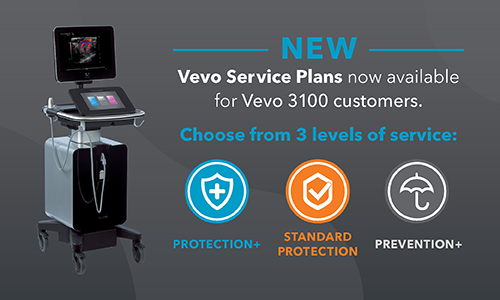 In our continued efforts to meet the needs of our customers, we are pleased to offer the New Vevo Service Plans for our Vevo 3100 customers. Our new service offerings offer greater flexibility and peace of mind to our users. Check out the new plans to see which one would work best for your lab.

LEARN MORE

Back to top.

---

PRODUCT ANNOUNCEMENT:
PA EKV: Measure Oxygenation in the Heart with Greater Precision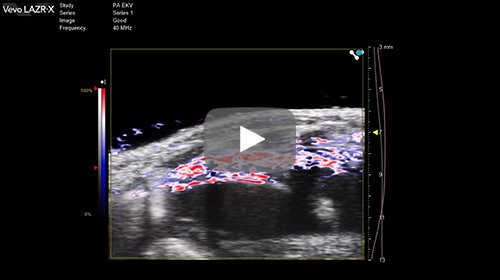 Unlock the ability to detect and assess oxygen saturation and total hemoglobin dynamically throughout the cardiac cycle. The above video shows a PA EKV image of the long-axis view of a mouse left ventricle. Oxygen saturation (red, white, blue) in the anterior myocardium is coregistered with anatomical ultrasound. Find out how PA EKV can advance your research of the heart and vasculature.

LEARN MORE

Back to top.
---

VEVO TRAVEL AWARDS:
Upcoming Submission Deadlines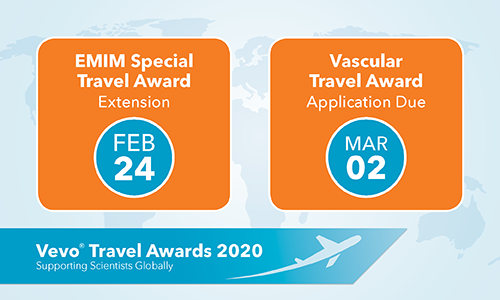 Our Special EMIM Travel Award deadline has been extended to February 24th! Vascular Track deadline is March 2, 2020.

APPLY TODAY

Back to top.
---
---

UPCOMING WEBINAR:

Don't Miss This on February 6, 2020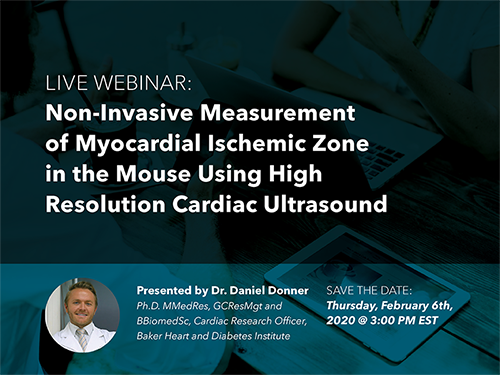 Kicking off the 2020 series of webinars is Dr. Daniel Donner. All registrants will receive a link to the recording.

REGISTER

Back to top.
---


RECORDED WEBINAR
Webinar Recording Now Available!
If you missed our November 2019 webinar, here's your chance to catch up!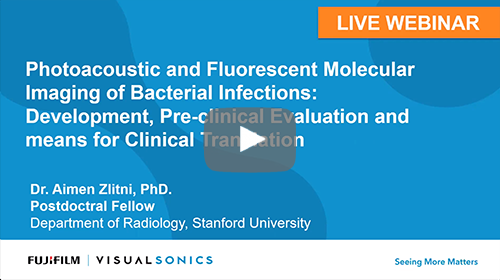 WATCH WEBINAR

Back to top.
---

VEVO TIPS & TRICKS
Joost shares How to Import and Design your Custom Spectrum Signature
This content is available to registered users only.




This issue's tip has been shared by Joost Holthof Preclinical Applications Specialist
Click here to login or register.

Get step-by-step instructions on how to import and design your custom spectrum signature.

READ THIS TIP

Back to top.
---
UPCOMING GRANTS

Open Date: January 01, 2020 - Deadline: May 01, 2020
W. M. Keck Foundation Research Program Grant

Back to top.
---
UPCOMING EVENTS

February 25, 2020
Hilton Inn Garden Conference Center Columbia, MO United States
University of Missouri Dalton Cardiovascular Day 2020

March 2 - March 4, 2020
Lisboa Lisbon Portugal
EACR-AACR Basic and Translational Research Conference

March 11 - March 13, 2020
Universita' di Torino, Torino TO Italy
Nanoscience in Cancer Immunotherapy

March 12 - March 13, 2020
University of Fribourg, Fribourg Switzerland
Cardiovascular Research Meeting 2020

March 24 - March 26, 2020
Edinburgh Scotland United Kingdom
Animal Science and Technology Conference

March 24 - March 27, 2020
Helexpo Thessaloniki Greece
15th European Molecular Imaging Meeting

Back to top. WWW.VISUALSONICS.COM