Vevo News Issue 32
In this issue of Vevo News:
(Navigate to specific sections using the Table of Contents below.)

Executive Insight: Greg Nesbitt - Celebrating 20 Years of Innovation!
Product Announcement: Announcing CE Mark and 510(k) Clearance for the Vevo MD 1.1 Release
Staff Announcement: Meet our New Scientific Liaison Dr. Sarah Burris!
Upcoming Workshop: Vevo Spring Workshop in Amsterdam, May 14 & 15, 2019
Upcoming Webinar: April 30, 2019 - 1:00PM EST
Featured Image: Imaging Zebrafish with High Frequency Ultrasound
Case Study: Non-invasive Morphological and Functional Assessment of Biological Structures
Featured Publication: Benefits of Cardiac Function by Simspson Method vs B-Mode Parasternal Long Axis
Vevo Tips and Tricks: Sandra shares how to optimize the display of time-based images for analysis
Upcoming Grants: Stay informed of deadlines
Upcoming Events: April - June 2019
EXECUTIVE INSIGHT: GREG NESBITT, VP GLOBAL HIGH FREQUENCY
Celebrating 20 Years of Innovation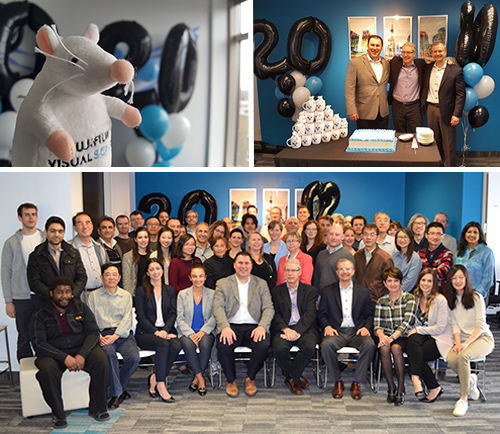 Top right (left to right):Andrew Needles, Dr. Stuart Foster, Greg Nesbitt. Bottom: VisualSonics Toronto Team

As we move into spring in the Northern Hemisphere, we often associate this time of year with a sense of growth and rejuvenation. This sentiment finds us looking to the future with our customers. 2019 marks a significant milestone for Fujilm VisualSonics and our Vevo users. This year we celebrate our 20th anniversary since being founded by Dr. Stuart Foster in Toronto, Canada. The most noteworthy aspect of this milestone is that you, our customers, continue to tell us what you need to be successful and we continue to find innovative ways to meet your needs.

In an industry where companies come and go over time, we are grateful to our customers who have challenged us and grown with us. Our ability to build a sustainable business ensures we are able to invest in the next generation of solutions and develop new technology to help us find new ways to support your success. VisualSonics continues to exhibit strong growth enabling us to invest in you. We look forward to the next 20 years and the exciting things it will bring. We are celebrating 20 years of having the privilege to serve you. - Greg Nesbitt

Back to top.
---
PRODUCT ANNOUNCEMENT
Announcing CE Mark and 510(k) Clearance for the Vevo MD 1.1 Release



We are excited to announce this latest release for the Vevo MD. The innovations in this update are in direct response to feedback from our customers.

"The new Doppler modes will provide additional data for current Vevo MD users while wireless connectivity will drive enhanced workflow and usability. We look forward to seeing these new features in action as the field of ultra high frequency imaging advances." shares Andrew Needles, director marketing and product management.

The Vevo MD 1.1 is now commercially available with CE mark in the majority of European Union countries and with FDA clearance in the United States.
LEARN MORE

Back to top.
---
STAFF ANNOUNCEMENT:
Meet our new Scientific Liaison Dr. Sarah Burris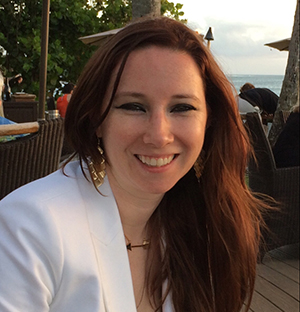 Dr. Sarah Burris
In an effort to better engage with our customers and stay true to our roots of scientific collaboration, we are pleased to announce the appointment of Dr. Sarah Burris as our new Scientific Liaison. 2019 represents a year of new discoveries, new capabilities, and new resources to support your work and your success. We are looking forward with you and are excited about the potential in what is next. CONTACT SUPPORT

Back to top.
---
UPCOMING WORKSHOP
Vevo Spring Workshop in Amsterdam, May 14 & 15, 2019
Join us for two days of innovation, technology, best practices and fun!




REGISTER NOW
Back to top.
---
UPCOMING WEBINAR
April 30, 2019 - 1:00pm EST
All registrants will receive a recording.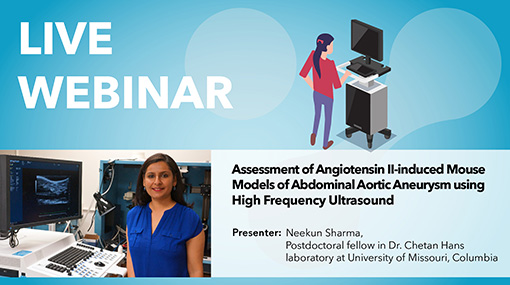 REGISTER NOW

Back to top.
---
FEATURED IMAGE:
Imaging Zebrafish with High Frequency Ultrasound





Zebrafish are model organisms for biomedical research. There are structural, functional, and genetic similarities with humans that make zebrafish a useful model for not only cardiovascular research but also oncology, developmental biology and aquaculture. Zebrafish are small, develop quickly, and because they are vertebrates, they share many of the same organs and cell types as mammals.

Imaging zebrafish using Vevo imaging technology allows for:
Imaging without being affected by skin pigments
Imaging fish in their natural environment
High frame rates
Precise assessment of blood flow and heart rate
---
CASE STUDY:
Non-invasive Morphological and Functional Assessment of Biological Structures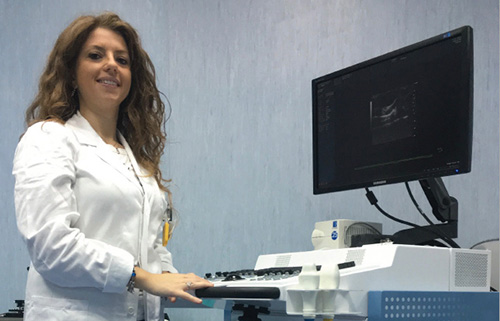 A conversation with: Dr. Francesca Iacobellis: a specialist radiologist at Centre of Biotechnology of A. Cardarelli Hospital, Naples, explains how ultra high frequency ultrasound imaging is enabling non-invasive morphological and functional assessment of biological structures in preclinical environments.
LEARN MORE

Back to top.
---
FEATURED PUBLICATION
Benefits of Cardiac Function by Simspson Method vs B-Mode Parasternal Long Axis
This study by Heinen et al. compares cardiac functional data in a myocardial infarct model acquired by B-Mode in parasternal long axis (PSLAX) versus Simpson method, versus MRI...
---
VEVO TIPS & TRICKS
Sandra Shares how to Optimize the Display of Time-based Images for Analysis
This content is available to registered users only.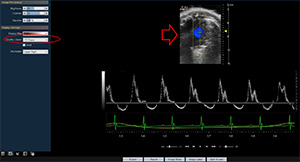 This issue's tip has been shared by Sandra Meyer,Applications Scientist. Click here to login or register.

When analyzing M-Mode, PW-Mode and Tissue Doppler Mode images in Vevo LAB, it can be very helpful to optimize your image display depending on your current task.

READ THIS TIP

Back to top.
---
UPCOMING GRANTS

Deadline: Friday, May 17, 2019
Defense University Research Instrumentation Program (DURIP)

Deadline: Friday, May 31, 2019
High-End Instrumentation (HEI) Grant Program

Deadline: Friday, May 31, 2019
Shared Instrumentation for Animal Research (SIFAR) Grant Program

Deadline: Friday, May 31, 2019
Shared Instrumentation Grant (SIG) Program

Deadline: Saturday, September 7, 2019
Biomedical Technology Research Resource (P41)

Deadline: Tuesday, January 21, 2020
National Science Foundation (NSF) Major Research Instrumentation Program (MRI)

Back to top.
---
UPCOMING EVENTS

April 28, 2018 to April 30, 2018
Northwestern University, Evanston, IL United States
PIC 2019

May 09, 2019 to May 11, 2019
Complesso dei SS. Marcellino e Festo, Naples NA Italy
HFA Naples 2019

May 14, 2019 to May 16, 2019
Marriott Copley Square, Boston, MA United States
ATVB 2019

June 03, 2019 to June 04, 2019
Manchester Central, Manchester, Greater Manchester, United Kingdom
BAS BSCR 2019

June 10, 2019 to June 13, 2019
ICLAS General Assembly Prague, Czech Republic
FELASA 2019

June 23, 2019 to June 26, 2019
Holthurnsche Hof, Nijmegen, Netherlands
Artimino 2019

See full event listings on our website.
WWW.VISUALSONICS.COM

Webinars | Featured Publications | Vevo Tips and Tricks | Shared Stories | Featured Images | Vevo Blog | Customer Resource Portal

...and so much more


Seeing More Matters






Webinars Vevo Travel Awards Products Applications




VisualSonics logo, VisualSonics dot design,
Vevo, Vevo MicroMarker, VevoStrain, VevoCQ, SoniGene, RMV, EKV, MicroScan,
Insight through in Vivo imaging are registered trademarks of FUJIFILM VisualSonics Inc.
FUJIFILM SonoSite, Inc. or FUJIFILM VisualSonics, Inc. sends information about our company, products and services to those who have provided consent or indicated interest.
In the event you no longer wish to receive email marketing communications from FUJIFILM SonoSite, Inc. or FUJIFILM VisualSonics, Inc., please unsubscribe or opt out here

FUJIFILM SonoSite, Inc.'s privacy policy can be viewed here
FUJIFILM SonoSite, Inc., 21919 30th Drive SE, Bothell, WA 98021, USA
Tel: +1 425 951 1200

FUJIFILM VisualSonics, Inc.'s privacy policy can be viewed here
FUJIFILM VisualSonics, Inc., 3080 Yonge Street, Suite 6100, Box 66, Toronto, ON, Canada M4N 3N1
Tel: +1.416.484.5000
FUJIFILM Copyright © 2019. All Rights Reserved.