Vevo News Issue 29


EXECUTIVE INSIGHT: GREG NESBITT, VP GLOBAL HIGH FREQUENCY
Supporting Your Success Globally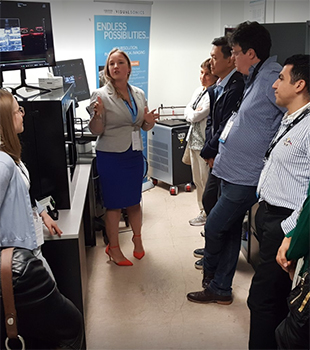 Innovation in Imaging Summit - Toronto 2018 The technology and solutions provided by Fujifilm VisualSonics are shaped by the researchers we serve. Close collaboration with our customers pressing the boundaries of what is possible is the lifeblood of our innovations. Over the past two months, the VSI team has played host to researchers in both Europe and North America with two symposia focused on translational research and new applications.
We had the 'Bench to Bedside' summit in Amsterdam and the 'Innovation in Imaging' summit in Toronto. We heard from world-class speakers who discussed how they were utilizing technology in novel new ways to answer difficult questions. Equally important was the peer to peer networking that occurred as well as the interaction with key members of the Fujifilm VSI engineering and product teams. This is a format that has proven useful (based on attendee feedback) for our research guests as well as our product developers. We are looking to support our customers further by expanding these efforts and increasing access to these unique educational opportunities. We are inspired by our users and eager to create more opportunities to engage with you and support your success. - Greg Nesbitt, VP Global High Frequency
---
IMPORTANT NOTICE
Check Your Inbox, Confirm Your Subscription

You may have received an email in your inbox asking you to confirm your subscription (see below). At FUJIFILM VisualSonics, we know your time is valuable. Keeping this in mind, we make a conscious effort to only share content that is sure to inform, educate and inspire you while respecting your privacy. To continue receiving important information from us, please do confirm your subscription. If you have not received that email, we ask you to please register here so you don't miss any communications from us in the future.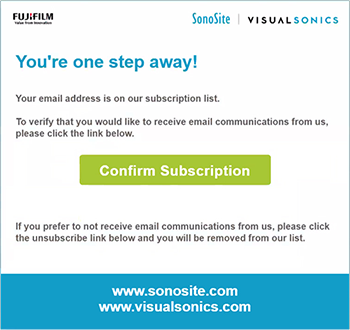 REGISTER HERE
---

FEATURED PUBLICATION
Assessment and Biodistribution of a Dual Ultrasound Contrast and Photoacoustic Imaging Agent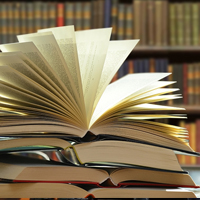 This study by Yosra Toumia et al. advances the knowledge of the behavior of a hybrid system consisting of pristine graphene anchored polyvinyl alcohol microbubbles (G/PVA MB), and is a proof concept for their efficiency as contrast agents in photoacoustic as well as ultrasound imaging.
---
SHARED STORY
Super Resolution of Tumor Vasculature
Submitted by Tatjana Opacic, Experimental Molecular Imaging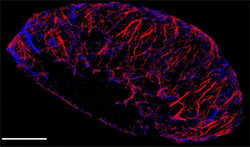 mULM direction map displaying directions of the individual MB moving towards (blue) of away from the ultrasound transducer (red). Scale bar=1mm. Tatjana Opacic shares a study where her lab developed a new method called motion model ultrasound localization microscopy (mULM) for morphological and functional characterization of tumors at super-resolution.
---

FEATURED IMAGE:
Whole Body Mouse Imaging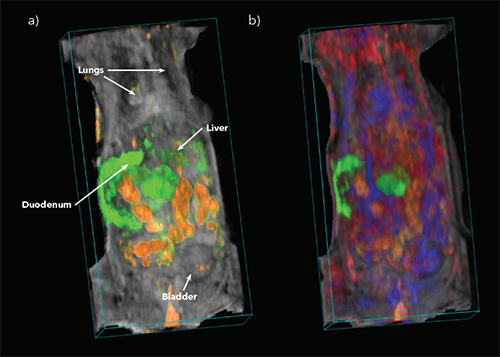 Shown above is a 3D whole body image of a mouse acquired using our Vevo LAZR-X system in conjunction with our upcoming whole body photoacoustic imaging setup.
LEARN MORE
---
VEVO TRAVEL AWARD
Molecular Imaging Award Deadline:
August 17, 2018
FUJIFILM VisualSonics is proud to support researchers around the world with our Vevo Travel Awards (VTA) Program. This cash prize is valued at $1000 (USD) and is awarded to allay travel expenses associated with attending an accredited conference/meeting where original research (using the Vevo imaging system) is being presented.



SEE UPCOMING AWARDS CHECK ELIGIBILITY
---
VEVO TIPS & TRICKS
How to Video Record your 3D and 4D Images in Vevo LAB
This content is available to registered users only.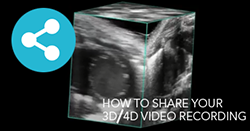 This issue's tip has been shared by Dr. Kristiina Aasa,Applications Scientist. Click here to login or register.

Want to share your awesome 3D or 4D image with your friends and colleagues, or in a conference presentation? A still image is often not sufficient. Find out how you can record videos of your 3D and 4D images within your Vevo LAB software.

READ THIS TIP
---
VEVO BLOG
Bouncing Back to Basics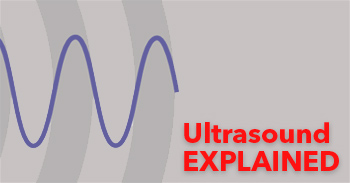 Technical terms and acronyms about our ultrasound technology might be confusing for those beginning to use our Vevo systems or new to ultrasound imaging in general. In this Vevo Blog entry, Dr. Kristiina Aasa talks about some basics of ultrasound technology.

READ BLOG
---


PREVIOUSLY RECORDED WEBINAR
June 2018: Photoacoustics Beyond the Abdomen: Dentistry, Drug Monitoring, and Cell Tracking
Presented by Jesse Jokerst, PhD, Assistant Professor in the Department of NanoEngineering at University of California San Diego.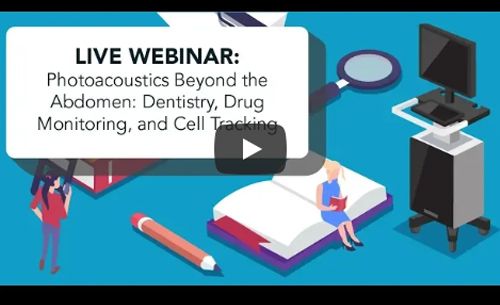 WATCH NOW
---
PREVIOUSLY RECORDED WEBINAR
April 2018: Functional photoacoustic imaging for assessment of metastatic lymph nodes
Presented by Diego Dumani, PhD student, Biomedical Engineering Georgia Institute of Technology and Emory University and Research Assistant in the Ultrasound Imaging & Therapeutics Research Laboratory in Atlanta, GA, USA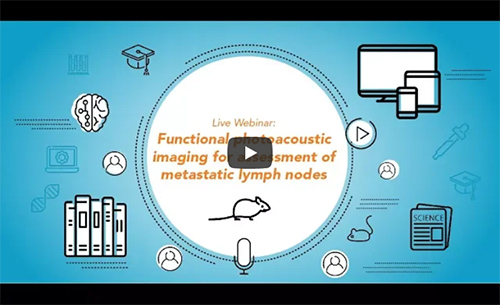 WATCH NOW
---
UPCOMING EVENTS

June 30, 2018 - July 3, 2018
RAI Amsterdam - Amsterdam, Netherlands
EACR 25 - European Association for Cancer Research - Booth #36

July 1, 2018 - July 5, 2018
Tony Resort - Anupriškės Trakai,Lithuania
ICTCT 2018 - 4th International Conference CTCT-2018 - Current Trends in Cancer Theranostics and 3rd General Meeting of COST Action CM1403

July 05, 2018 to July 06, 2018
University of Guadalajara - Guadalajara, Mexico
ARTERY LATAM 2018 - Association for Research into Arterial Structure and Physiology - Booth #15

July 07, 2018 to July 11, 2018
CityCube Berlin - Berlin Germany
FENS 2018 - Forum of Neuroscience

July 16, 2018 to July 18, 2018
Revere Hotel Boston Common - Boston, MA, USA
TM 2018- Tumor Models

July 30, 2018 to August 02, 2018
Grand Hyatt - San Antonio, TX USA
BCVS 2018 - Basic Cardiovascular Sciences Meeting 2018 - Booth #1

August 11, 2018 to August 16, 2018
Westin Harbour Castle Toronto, ON Canada
INTS 2018 - International/National Neurotrauma Societies 2018 - Booth #403

See full event listings on our website.
WWW.VISUALSONICS.COM

Webinars | Featured Publications | Vevo Tips and Tricks | Shared Stories | Featured Images | Vevo Blog | Customer Resource Portal

...and so much more


Seeing More Matters