Vevo News Issue 18
FUJIFILM | VISUALSONICS NEWSLETTER - ISSUE 17



LATEST NEWS

Vevo LAZR Software Update v2.2.0 now available!

Characterize, visualize and analyze your molecular data with the new Vevo LAZR software version v2.2.0. This exciting software update for the Vevo LAZR imaging system and Vevo LAB workstation focuses on improving workflow and quantification for molecular imaging studies beginning with software and associated accessories for characterizing photoacoustic contrast agents, enhanced acquisition and visualization of in vivo data and quantification tools for analysis of that data. Visit our website to download the latest software update today!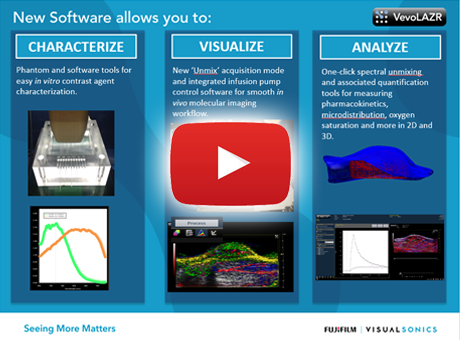 ---

WMIC 2016

Attending WMIC in NYC? Don't miss our special event!




We would love to see you at our 5th Annual Social Event during WMIC in New York City!
Thursday, September 8, 2016 | 5:30 PM - 9:30 PM
Room 1E15 - Jacob K. Javits Convention Center, New York City, NY

Highlights include:
Special Presentation by Dr. Mukund Seshadri: Photoacoustic Mapping of Angiogenic Heterogeneity in Head and Neck Cancer
Hands-On Session with Vevo LAZR Software
Featured Station: Imaging with the Vevo MD
Live Entertainment: Jazz duo - Wishing On Stars.
---

FEATURED PUBLICATION: Preclinical Oncology

Tumor Vascular Assessment using Contrast and Photoacoustics






This recent study by Bar-Zion et al. in the prominent journal, Cancer Research, highlights the significance and validity of contrast-enhanced ultrasound and photoacoustics (PA) to assess vascularity in tumors and to monitor efficacy of treatment dynamically over time. Both vascular morphology and functional perfusion and oxygenation were assessed and validated with histology.

Go to complete story >
---

IMAGE OF THE MONTH

Tumor showing targeted and non-targeted nanoparticles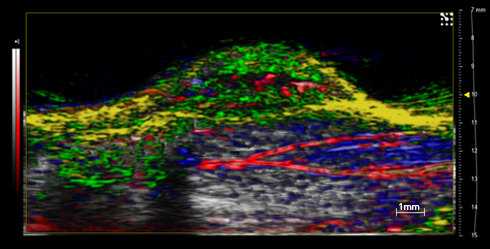 Ultrasound and photoacoustic image of a tumor showing oxyhemoglobin(red), deoxyhemoglobin(blue), targeted nanoparticles (green) and non-targeted nanoparticles (yellow).
---
VEVO TIPS & TRICKS

Animal Physiology is Important for Data Standardization





This issue's Tip has been shared by Application Specialist Magdalena.
Magdalena writes: Frequently I get the question on how to ensure reproducibility in cardiac or contrast imaging. Hypothermia is known to negatively affect the quality of cardiac and contrast reproducibility. The key is monitoring of physiology .

Read Full Story
---

WEBINAR RECORDING

July 2016 Webinar: Exploring New Biomarkers in High Frequency Ultrasound and Photoacoustic Imaging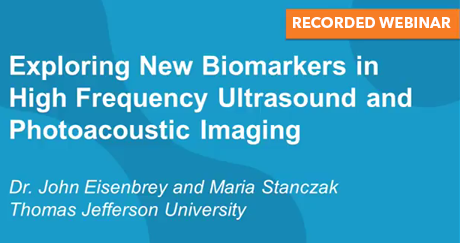 Join Dr. John Eisenbrey and Maria Stanczak from Thomas Jefferson University as they present their exciting work on monitoring of intracerebral hemorrhage and fasciocutaneous flaps following surgery. As well as helpful tips and tricks for photoacoustic imaging and much more!
---
UPCOMING WEBINAR - Wed, Sep 28, 2016 from 1-2PM EDT

Great Xpectations: A sneak peek at the latest innovations in photoacoustic imaging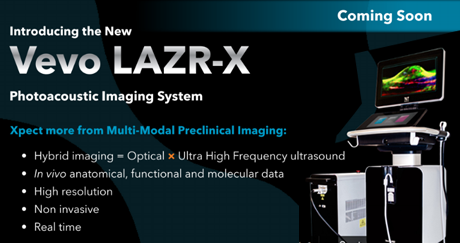 In our upcoming webinar, learn about the NEW Vevo LAZR-X Photoacoustic Imaging System (being featured at WMIC - World Molecular Imaging Congress in September).

What to Xpect:
Introducing new laser technology for faster, more sensitive image acquisition at a wider wavelength range (680 - 970 nm and 1200 - 2000 nm)
Benefits of touch-screen interface for smooth workflow
Introduce a flexible, application-specific light delivery system
New accessories and software tools for applications such as molecular imaging, neurobiology and cardiology
Learn what high-resolution ultrasound and photoacoustic imaging can do for your research!
---
SPECIAL FEATURE

SHANNON'S JOURNEY BEGINS!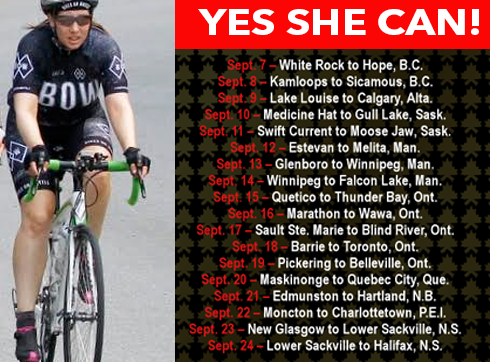 Shannon Rooney is the Human Factors Specialist at our Toronto office at FUJIFILM VisualSonics. This September, she will ride 2800 km across Canada from Vancouver all the way to Halifax over 18 days to raise money to fight kids' cancer. Shannon's training is complete after riding 4344 km over the last 4 months. On Wednesday Sept 7, she will depart from Vancouver to start making her way across Canada, riding 2900 km (1800 miles) over 18 days. She is thrilled to announce that she has been able to reach her fundraising goal of $20,000, thanks in large part to donations made by staff at VisualSonics and support from FUJIFILM America! We will be sharing Shannon's Journey on social media but you can also follow her on:
Web: snkcr.com/shannonrooney
Instagram: @shannonr77
Twitter: @ShannoRoo
Her Blog: http://shannonrooney.tumblr.com/
---
VEVO BLOG CATCHUP

To Postdoc or not to Postdoc? Read this thought provoking blog by our very own Dr. Kristiina Aasa
---

UPCOMING EVENTS

September 05-06, 2016 - Verona, Italy
SIC - 58th Annual Meeting of the Italian Cancer Society

September 07-10, 2016 - New York City, USA
World Molecular Imaging Conference

September 14-17, 2016 - New Orleans, USA
American Association of Neuromuscular and Electrodiagnostic Medicine

September 15-18, - Naples, Italy
National Congress Italian Society of Medical Radiology

September 19-21 - Tours, France
International Ultrasonics Symposium

September 25-29, 2016 - Florence, Italy
5th World Union of Wound Healing Societies

September 28- October 02, 2016 - Vienna, Austria
EADV - 25th European Academy of Dermatology and Venerology