In Vivo Imaging Of Kidney Pathologies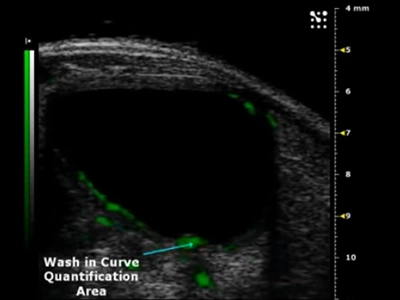 Submitted by Dr. Carlton Bates
Dr. Carlton Bates heads an NIH funded research program at the University of Pittsburgh which also benefits from his clinical service as the Chief of Pediatric Nephrology. Many of the mouse models Dr. Bates has generated mimic congenital structural kidney diseases, which are the leading causes of kidney disease in children.
In fact, Vesicoureteral reflux, which is backflow of urine from the bladder into the kidneys affects 1-2% of the population and the state-of-the-art for detecting reflux was in euthanized animals; this loses the normal physiology of live animals and prevents repeated testing of animals. In addition, abnormal bladder function is associated with a myriad of clinical complications (including hydronephrosis) for which there are currently limited therapies.
With high frequency ultrasound guided research, his laboratory has accomplished the following:
1. Generated an in vivo assay using microbubble contrast ultrasound imaging to detect vesicoureteral reflux (VUR) in live mice.
2. Generated 3D reconstructions of the ureter and renal pelvis with the contrast to measure the degree of reflux.
3. Quantified progressive increases in bladder volumes and worsening hydronephrosis (dilatation of the renal pelvis) in aged mutant mice.