Proudly Supporting the Solidarity Adventure in Morocco
Trophee Roses des Sables - October 12th-24th, 2021

FUJIFILM VisualSonics is proud to have supported Team Lau'Vi .  Below is their documented journey as they trekked across the Moroccan desert in a dune buggy—all in support of raising funds to find a cure for breast cancer.

In 7 days, they covered 778,764 Kms, finishing in 77th place out of 156 in their category while supporting the Pink Ribbon foundation, Children of the Desert and the Bordeaux Red Cross! Congratulations to Team Lau'Vi!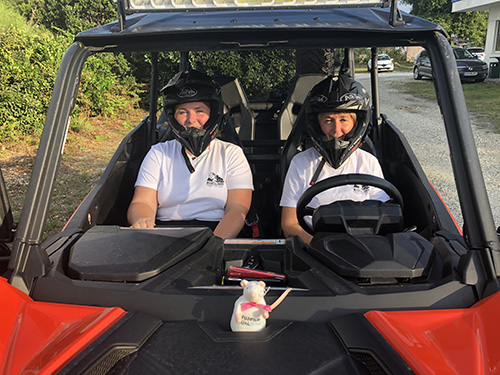 Team Lau'Vi is made up of a mother and daughter team—Laurence (shown right) and Marine (shown left), from France. Also on their team is their mascot the 'VSI Mouse'! We have chronicled their adventure as they made their way through the desert from October 12 to October 24th, 2021.
Below is their journey as they trek through the Moroccan desert in a rally with other women as they raise money for Cancer with their mascot, the VSI Mouse!