For Advanced Analysis Software for Vascular Wall Motion Tracing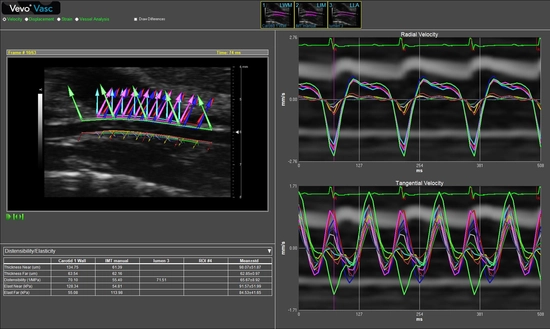 Vevo Vasc Analysis Software is a vascular strain analysis package that utilizes advanced speckle tracking algorithms on high-resolution ultrasound data to quantify vascular pathologies non-invasively and in vivo.
It is the first software of its kind available for preclinical researchers studying vascular disease (optimized for mouse and rat models). The software includes both qualitative and quantitative tools to study various vascular disease models.

By taking advantage of the Vevo system's high spatial and temporal resolution, it is now possible to visualize and quantify early indicators of vascular disease and/or remodeling!
Quantification Tool
Quantifying wall motion
Assess stiffness using pulse wave velocity
Measure vessel microanatomy and Intima Media Thickness (IMT)
Screen shot of vascular analysis using Vevo Vasc software
Perfect for Models of:
Atherosclerosis
Aneurysm
Vascular Grafts