Vevo News Issue 34
In this issue of Vevo News:
(Navigate to specific sections using the Table of Contents below.)

Executive Insight: Greg Nesbitt - A Message to our Valued Customers
Special Infographic: Ultra High Frequency Ultrasound - The Silent Hero in Research
Grant Support: NIH S10 Grant: Pre-award Support Worksheet
Product Announcement: Auto LV Now available for M-Mode
Featured Image: See the Difference - Vevo 3100 vs. Conventional Ultrasound Imaging!
Featured Publication: Accurate Assessment of LV Function using Automated Border Detection Algorithm
Vevo Tips and Tricks: Joost shares How to Optimize 4D Settings and Workflow
Upcoming Grants: Stay informed of upcoming deadlines
Upcoming Events: October - November 2019
---
EXECUTIVE INSIGHT: GREG NESBITT, VP GLOBAL HIGH FREQUENCY
A Message to our Valued Customers


As we begin a new season, I want to start by thanking you, our customers. Your work continuously inspires our team to find new and innovative ways to support your success. As a result, technology is evolving quickly here at VisualSonics.

We have made significant R&D investments in Artificial Intelligence through our parent company Fujifilm SonoSite to ensure we are leveraging that capability to help you solve problems more effectively. A great example of our eagerness to adopt AI, is our own Auto LV Analysis tool that allows for functional analysis of the left ventricle in small laboratory animals with a "one-click" solution - now in B-Mode and M-Mode! Read our recent Featured Publication to find out how this tool is impacting the research community.

Around the globe, we are increasing the number of workshops we host in order to bring together our research community to learn, share best practices, and build relationships with the focus on ultra high frequency ultrasound and photoacoustics. Visit our website for upcoming workshops and events information. If you would like to host a workshop, please contact us. Thanks to your support, we are celebrating 20 years of innovation in scientific research. The potential to impact human health has never been greater. We look forward to playing a role in supporting your success for the next 20 years!

- Greg Nesbitt

Back to top.
---
SPECIAL INFOGRAPHIC: 20 YEARS OF INNOVATION
Ultra High Frequency Ultrasound - The Silent Hero in Research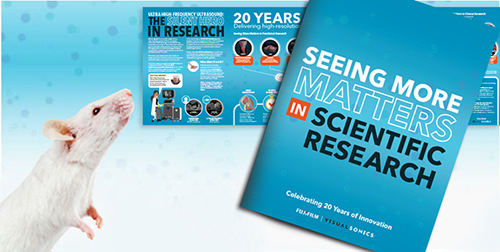 Of all the imaging modalities available today for studying the nature of disease, ultra high frequency (UHF) ultrasound is one of the most innovative and effective ways to acquire high resolution images and robust data. Download this infographic that illustrates the value of this advanced technology across both preclinical and clinical research application areas.

DOWNLOAD PDF

Back to top.
---

GRANT SUPPORT
NIH S10 Grants: Pre-Award Support Worksheet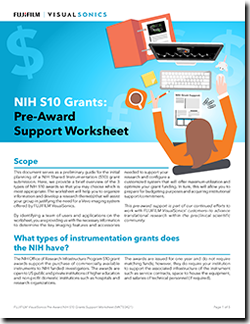 Looking to get funded using the S10 Shared Instrument Grant? This document helps you get started by providing a brief overview of the 3 types of NIH S10 awards so that you may choose which is most appropriate. Organize information and develop a research theme(s) that will assist your group in justifying the need for a Vevo imaging system.

LEARN MORE

Back to top.
---


PRODUCT ANNOUNCEMENT
Auto LV now available for M-Mode
Auto LV Analysis software is the latest addition to our robust suite of measurement tools customized for preclinical small animal research. Building on our long-standing and widely adopted LV Analysis tool, AutoLV Analysis brings Artificial Intelligence to functional analysis of the left ventricle in small laboratory animals with a "one-click" solution - now in B-Mode and M-Mode!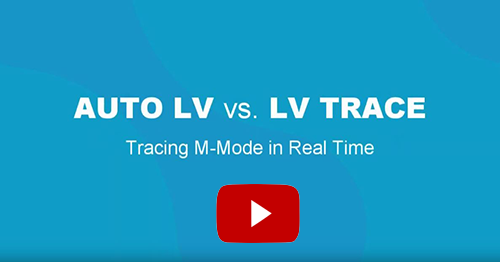 WATCH VIDEO
Back to top.
---
FEATURED IMAGE:
See the Difference - Vevo 3100 vs. Conventional Ultrasound Imaging!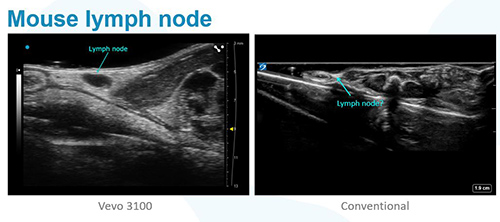 Check out some views of mouse anatomy using conventional ultrasound technology compared with ultra high frequency ultrasound images acquired using our Vevo 3100 system. Seeing more matters in research.

FEATURED IMAGE

Back to top.
---

FEATURED PUBLICATION
Accurate Assessment of LV Function using Automated Border Detection Algorithm
This study by Grune et al. compares LV functional analysis completed using a novel automated 2D-border detection algorithm (referred to as Auto2DE) versus conventional manual 2D echo assessment (2DE).
---
VEVO TIPS & TRICKS
Joost shares How to Optimize 4D Settings and Workflow
This content is available to registered users only.





This issue's tip has been shared by Joost Holthof Preclinical Applications Specialist
Click here to login or register.

When acquiring 4D echocardiographic data using the Vevo 3100, there are parameters and settings to consider.

READ THIS TIP

Back to top.
---
UPCOMING GRANTS

Open Date: February 25, 2019 - Deadline: November 26, 2019
NSF Materials Research Science and Engineering Centers (MRSECs) Award

Open Date: January 01, 2020 - Deadline: January 21, 2020
National Science Foundation (NSF) Major Research Instrumentation Program (MRI)

Open Date: January 01, 2020 - Deadline: May 01, 2020
W. M. Keck Foundation Research Program Grant

Back to top.
---
UPCOMING EVENTS

October 6 to October 9, 2019
SEC Glasgow Glasgow, Scotland, United Kingdom
IEEE IUS 2019

October 16 to October 18, 2019
University of Minnesota Minneapolis, MN, United States
MWACD 2019

October 27 to October 31, 2019
Asilomar Conference Grounds, Monterey, CA, United States
VB 2019

November 16 to November 18, 2019
Pennsylvania Convention Center Philadelphia, PA, United States
AHA 2019

Back to top