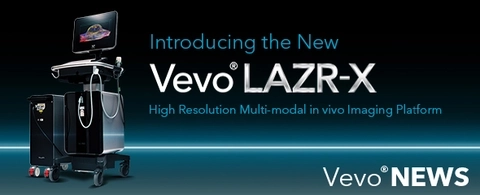 LATEST NEWS: PRODUCT LAUNCH
Meet the new Vevo LAZR-X: Our Most Advanced Multi-modal Imaging Platform
---

SPECIAL ANNOUNCEMENT: NEW WEBSITE NOW LIVE!
Check out our New Website and Customer Resource Portal
---

SHARED STORY
Photoacoustic Imaging of Placental Oxygenation
Submitted by Dr. Carolyn Bayer, Tulane University, New Orleans, LA, USA

There is an urgent need to identify first trimester pregnancies at risk for the development of preeclampsia—a leading cause of maternal and perinatal mortality—in order to improve clinical treatment of the disease. Our research laboratory is developing ultrasound-guided spectral photoacoustic imaging of placental ischemia in vivo.



In vivo 3D rendered coregistered high-resolution ultrasound (greyscale) and photoacoustic (red, white and blue) image of a mid-gestational fetus and its associated placenta. The photoacoustic signal represents a parametric map of oxygen saturation with red values representing higher sO2.
---

FEATURED PUBLICATIONS
Use of Ultrasound and Photoacoustics for Placental Imaging
Use of Ultrasound with 3D Contrast to Assess Colorectal Cancer
---

VEVO TRAVEL AWARDS
DEADLINE: March 6th! For Oncology and Developmental Track Submissions
---

VEVO TIPS & TRICKS
Image Optimization using Bubble-free Gel
---

UPCOMING WEBINAR - Tuesday, February 28th, 2017 1pm EST
Ultra High Frequency Ultrasound Imaging for Preclinical Vascular Disease Research
---
UPCOMING EVENTS

March 3-5, 2017 - JW Marriott Austin, TX United States
Society for Pediatric Anesthesia

March 3-7, 2017 - Orange County Convention Center Orlando, FL United States
American Academy of Dermatology

March 16-17, 2017 - UAB Hill University Center Birmingham, AL United States
SfRBM Regional Symposium

See Events tab for complete listing.W.VISUALSONICS.COM