Vevo News Issue 17



LATEST NEWS

World's First Vevo MD Installed in Naples

Recently, we at FUJIFILM VisualSonics reached a milestone in our history with the installation of the first Vevo® MD Ultra High Frequency (UHF) clinical ultrasound system at the Second University of Naples in Italy.

"We are now starting to perform vascular assessment of diabetic patients, and also plan to study dermatological and systemic diseases." - Dr. Roberto Grassi

According to Dr. Roberto Grassi, Professor of Radiology at the F. Magrassi and A. Lanzara Department at the Second University of Naples, this new technology brings the team's capabilities to a whole new level and shows great potential for developing novel applications in the clinical sector.


---

SHARE YOUR STORY

Share Your Success and Get Rewarded





Goody bag contains bluetooth speaker, mug, notepad and of course our mascot mouse.
Do you have an experience using our Vevo® technology that you'd like to share in our globally distributed newsletter? In this issue, we are asking you to tell us how our Ultra High Frequency Ultrasound or Photoacoustic System has advanced your research. If your story is shared, you will receive a FUJIFILM VisualSonics bag of branded goodies!

Send us your Success Story >
---

IMAGE OF THE MONTH

Rabbit embryo in a murine dam??!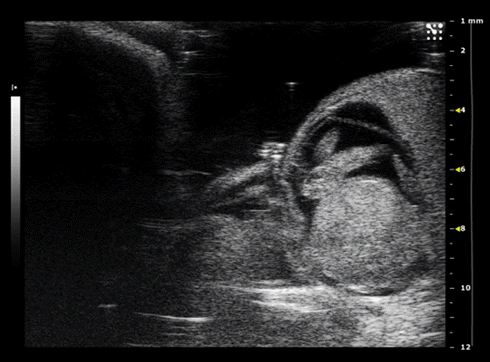 A very amusing image of what looks like a rabbit embryo in a murine dam. Image courtesy of Dr. Gilles Renaud from Cochin Institute in Paris, France.

---
VEVO TECH TALK

Vevo 3100: An updated version of the system software - V2.1.2 is now available

Attention all Vevo 3100 customers: Please update your system with the latest software update. Login to the customer site to download the package which includes all relevant documentation, plus a technical bulletin. As always, no existing data will be altered during the update, and previously licensed features will continue to be available.

Update 3100 Software >
---

VEVO TIPS & TRICKS

Lindsey Shares her Advice for TAC Model Imaging





This issue's Tip has been shared by Application Specialist Lindsey.
Transverse Aortic Constriction (TAC) is a widely used experimental model to create pressure-induced cardiac hypertrophy and ultimately heart failure. The Vevo UHF System can be used to assess the success of surgery to quantify blood flow velocity at the constriction site. Question is, which transducer should you choose to measure TAC velocity?

Find out the answer >

---

WEBINAR RECORDING

Ultrasound evaluation of PDX renal cell carcinoma in the chicken embryo model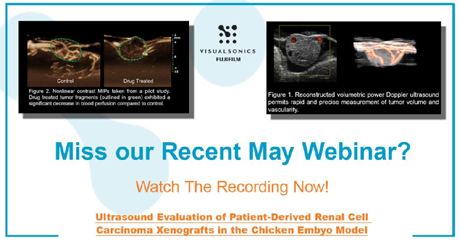 Dr. Hon Leong and Matthew Lowerison from Western University presented interesting evaluations of anti-angiogenic treatment responsiveness. Patient derived tumors were engrafted into a chick embryo model and imaged using ultra high frequency ultrasound. If you missed the live webinar, here's your chance to catch up!
---

SPECIAL FEATURE

Yes She Can! Our Own Shannon Rooney takes on Canada from Coast to Coast!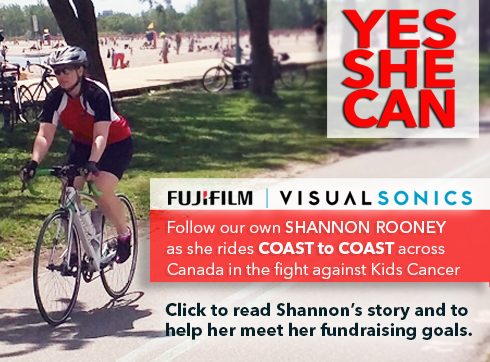 Shannon Rooney is the Human Factors Specialist at our Toronto office at FUJIFILM VisualSonics. This September, she will ride 2800 km across Canada from Vancouver all the way to Halifax over 18 days to raise money to fight kids' cancer. We will be sharing her journey on our social media channels. Find out what inspires Shannon to make this journey and how you can contribute to her success.
---
VEVO BLOG CATCHUP

The Lab and the Clinic – Working Together Towards Personalized Medicine
---
UPCOMING EVENTS

Jul 02-06, 2016
10th FENS Forum of Neuroscience - Copenhagen, Denmark

Jul 03-06, 2016
New Frontiers in Basic Cardiovascular Research - Paris, France

Jul 03-06, 2016
Beatson International Cancer Conference - Glasgow, United Kingdom

Jul 08-10, 2016
Frontiers in Cardiovascular Biology - Florence, Italy

Jun 29-Jul 01, 2016
1st Technology Summer School of the ESMI - Crete, Greece

Jul 18-21, 2016
The Basic Cardiovascular Sciences Meeting Hyatt Regency Phoenix - Phoenix, AZ, USA

Jul 19-21, 2016
Tumor Models - Le Meredian Hotel, Boston, MA, USA