Vevo LAZR Photoacoustic Imaging System
Jan 16 2014 - 10:22pm — admin
Photoacoustics is a ground-breaking, real time imaging modality for visualizing small animal anatomy and analyzing function in vivo  and non-invasively. It is the future of preclinical-imaging in real-time.
Applications of Photoacoustic Imaging include:
Photoacoustics Features:
Inherent co-registration of photoacoustic signal to 2D/3D anatomical target
Sensitive, specific molecular data for tumor microenvironment studies
Real-time, in vivo imaging of deep tissue
Resolution down to 45 µm allows detailed anatomical analysis
3D imaging with respiration gating
Longitudinal tumor imaging for therapeutic/drug studies
In vivo nanoparticle imaging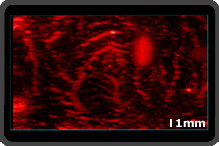 Transcranial mouse cerebral vasculature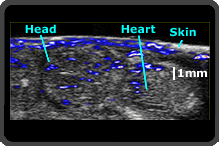 Oxygen saturation map of mouse embryo showing head and heart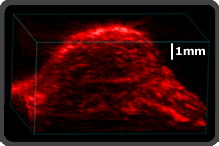 3D visualization of a subcutaneous 3D tumor in a mouse hindlimb at 800 nm
The Vevo® LAZR Photoacoustic Imaging System inherently co-registers structural and functional data, simultaneously collecting and displaying high-resolution micro-ultrasound and photoacoustic signals for unrivalled small animal imaging.
Anatomical, functional, physiological, and molecular data acquisition. One system.
Applications include:

Quantification of oxygen saturation and hemoglobin content
Microvascular hemodynamics in real-time
Molecular and cellular imaging
3D volumetric acquisition
Vevo Multiplexer tool to detect signal from multiple sources and co-register to
anatomy

Longitudinal monitoring for therapeutic interventions in the same animal over time
High sensitivity, high specificity, real-time 3D imaging
Spectro functionality for characterization of photoacoustic signal throughout the 680 – 970 nm range
3D Thresholding for optimized signal intensity during data analysis
Vevo Color for differentiating various anatomical targets

 
The Vevo LAZR Photoacoustic Imaging System. Explore the newest small animal imaging modality, offering 3D visualization, tumor imaging, hemoglobin quantification and oxygen saturation.
Contact Us Today