UPCOMING EVENTS & WEBINARS
UPCOMING WEBINAR
IN THE SPOTLIGHT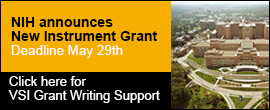 NIH has announced that the ORIP High-End Shared Instrument Grant ( HEI ) is now available to purchase or upgrade a single instrument or integrated system that costs $600K to $2M.
Our team can support you!
Click here for VSI Grant Writing Support.
Grants and Awards
NOW ACCEPTING! SUBMIT YOUR MOLECULAR IMAGING ABSTRACTS.
CLOSING SOON! VASCULAR IMAGING ABSTRACTS ARE DUE JUNE 30th.
APPLICATIONS INNOVATION
Get educated on the latest updates of Vevo Strain software for cardiovascular research. Hosted by Product Manager, Stephen Buttars.
Subscribe to Vevo News
Stay up to date with company news and events by subscribing below to our monthly newsletter.