UPCOMING EVENTS & WEBINARS
FEATURED PRODUCT
IN THE SPOTLIGHT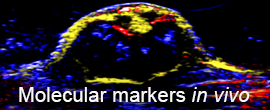 Photoacoustic imaging of multiple molecular events is the latest in molecular imaging in vivo.
Grants and Awards
Win $1000 to support the presentation of your scientific research at your professional society
Now Accepting!
Cardiovascular research abstracts due on October 10th
LATEST WEBINAR
Multimodal Imaging
In this webinar:
In vivo imaging across imaging platforms (eg:CT, Ultrasound, MR, Photoacoustics, Optical).
Multimodal imaging for research using Vevo Imaging Systems.
Multimodal contrast agents and latest applications.
Management of data across imaging platforms.
Subscribe to Vevo News
Stay up to date with company news and events by subscribing below to our monthly newsletter.