UPCOMING EVENTS & WEBINARS
FEATURED PRODUCT
IN THE SPOTLIGHT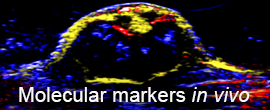 Photoacoustic imaging of multiple molecular events is the latest in molecular imaging in vivo.
Grants and Awards
Win $1000 to support the presentation of your scientific research at your professional society
Now Accepting!
Cardiovascular research abstracts due on October 10th
LATEST WEBINAR
Cardiac and Respiratory-Gated 3D Ultrasound Imaging
Dr. Craig Goergen and Arvin Soepriatna described their work on 4D cardiovascular imaging using 3D and EKV images from Vevo ultra high-frequency ultrasound. They applied this technique to both the heart as well as the aorta (in a model of abdominal aortic aneurysm).
Subscribe to Vevo News
Stay up to date with company news and events by subscribing below to our monthly newsletter.