UPCOMING EVENTS & WEBINARS
FEATURED PRODUCT
IN THE SPOTLIGHT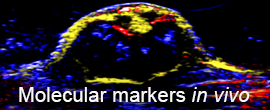 Photoacoustic imaging of multiple molecular events is the latest in molecular imaging in vivo.
Grants and Awards
NOW ACCEPTING! Submit your molecular imaging abstracts.
CLOSING SOON! Vascular imaging abstracts are due June 30th.
LATEST WEBINAR
In this webinar:
Photoacoustic imaging and its advantages
In vivo and in vitro workflow to characterize & quantify PA contrast agents
Latest in molecular imaging with photoacoustics for cardiology, cancer, neuro and infection
Subscribe to Vevo News
Stay up to date with company news and events by subscribing below to our monthly newsletter.