Vevo® 2100 System
Jan 17 2014 - 2:05am — admin
The first high-frequency, high-resolution digital imaging platform with linear array technology and Color Doppler Mode.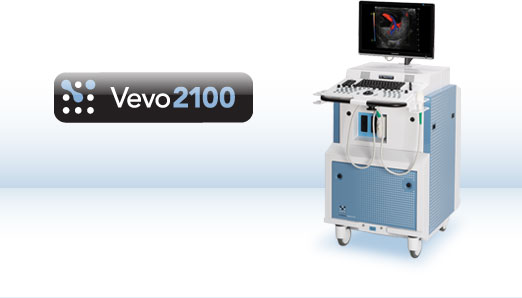 VisualSonics redefines state-of-the-art with a new digital platform delivering outstanding performance in a wide range of animal models and applications including cardiovascular, cancer and inflammation, to name a few. 
The Vevo® 2100 system expands the functionality, flexibility and image quality of the Vevo 770 system, operating at frequencies never before achieved with solid-state array transducers. The new MicroScan™ transducers provide increased frame rates, superb contrast, unrivaled resolution and a wider field of view. The system is easy to use, non-invasive and fast, providing extremely high throughput when needed.
Superior resolution and image uniformity through entire field of view
30 micron resolution
Frame rates in 2D up to 740 fps (for a 4x4 mm field of view)
Wider field of view
Expandable Imaging and Processing Options
Color and Power Doppler Modes for blood flow quantification & anatomical identification
M-Mode single line acquisition allowing high-temporal resolution for LV functional analysis
Anatomical M-Mode for adjustable anatomical orientation in reconstructed M-Mode imaging
3D-Mode Imaging & Volume Analysis
Nonlinear Contrast Imaging
VevoStrain™ Analysis software for cardiac research
Advanced measurements & quantification
Open architecture data management, flexible image output options
Mobile - true plug & play for any lab
Available Imaging options for the Vevo 2100 system
Software analysis and data management:
Benefits: Flexibility, simplicity, researcher-friendly 
Key Features
Study based data management – ability to add images/data to an existing study, this is ideal for long term studies
Ability to perform multiple measurements/calculations on all images
Ability to view images simultaneously in a side-by-side manner; aids in consistent imaging plane throughout the course of a study
Ability to perform data analysis on an off-line computer; reserves time on the system for acquisition not analysis
Data Management
Analyze, label, annotate and archive images and studies through a flexible, open-architecture system. Software supports industry standard Dicom 3.0, providing flexibility in the analysis and production of research data; the software also provides a wide variety of video, image, and data export formats compatible with most PC based software.
Studies can easily be stored on the system, external hard drive, disc, or network
Images can be copied as a group within a series/study, composite between series/studies, or as individual images
System hard drive is 300 GB
Multiple series can be created within the same study
Control vs. experimental
Multiple animals (m1;m2;m3;mn)
Add series to a previously acquired and saved study
Multiple time points (T1;T2;T3;Tn)
Data and Image Export 
Export a list of acquired studies/series/images to paste into lab book 
Easily export with and without annotations/measurements (without duplication of data) 
Easily export with and without physiological parameters (without duplication of data) 
Images can be exported in multiple formats:
TIFF, BMP, AVI uncompressed AVI, MS Video9 and DICOM
Contact Us Today