Photoacoustic Contrast Agents
Sep 3 2015 - 8:23am — admin
Exogenous contrast agents are important tools in a variety of imaging modalities including fluorescence, PET/SPECT, CT, MRI and ultrasound. They are especially relevant for molecular imaging applications seeking to visualize cellular functions and molecular processes non-invasively, in vivo. Furthermore, they can be used for diagnosis and treatment of a variety of diseases. Some of these agents are approved for clinical use and thus are ideal for translational research.
Photoacoustic contrast agents offer advantages over other imaging modalities due to the high resolution which can be achieved deeper within tissue, often at a lower cost and faster acquisition times. In addition, some can be used with other imaging modalities, making them truly multi-modal agents.
The Vevo LAZR system provides tools for characterizing photoacoustic contrast agents in vitro and in vivo for researchers designing such agents for biomedical applications.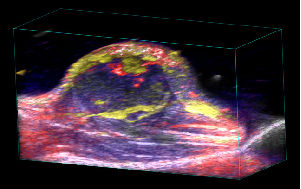 3D coregistered ultrasound (greyscale) and photoacoustic image of a subcutaneous mouse hindlimb KB tumors showing nanoparticle microdistribution (yellow), deoxygenated hemoglobin (blue) and oxyhemoglobin (red).
Photoacoustic contrast agents include:

Liposomes
Melanin (tyrosinase)
Applications include:

Cancer imaging and therapy
Sentinel lymph node detection
Imaging of lymphatics
Cell tracking
Reporter gene imaging
Angiography
Vevo Journal Club - Photoacoustic Contrast Agents is a group in Biological Sciences on Mendeley.
Contact Us Today