Rheumatology & Musculosketal
Jan 16 2014 - 9:57pm — admin
The excellent spatial resolution and expanded functionality of the Vevo® high-frequency ultrasound system greatly facilitates rheumatology and musculoskeletal researchers to visualize and assess function in joints, muscles, and other soft and connective tissue in small animal models such as mice to large models such as humans.
High-spatial resolution up to 30 μm allows for excellent delineation of anatomy associated with rheumatology and musculoskeletal research. For example, muscles, tendons, cartilage and ligaments can be visualized in various anatomical regions such as hind limb muscle, shoulder, knee, finger and elbow. Furthermore, bone and articular cartilage surface smoothness can also be visualized and inflammatory responses quantified. Various pathologies such as skeletal muscle ischemia, arthritis, tendinitis and certain autoimmune diseases can cause changes in these structures in terms of tissue texture, tissue brightness and smoothness of bone and cartilage surfaces. The Vevo system can detect and quantify changes in joint space size, detect synovitis and quantify volumetric changes as a response to treatment.
Quantification of joint perfusion: Various pathologies can affect blood flow in the joint regions. Blood flow in vessels greater than 100 μm can be visualized and quantified using pulsed-wave, color and Power Doppler. Contrast imaging with infusion of contrast agents enables blood flow assessment at the tissue/capillary levels. Therapeutic intervention and cellular delivery to joints and the response can be measured and tracked longitudinally.
Image-guided injection and biopsy: The integrated rail system and the image-guided needle injection system enables needle injections to and biopsies/aspiration from soft tissue in the joint regions. Examples of material injected can be cancer cells, stem cells or therapeutic compounds
Detection and quantification of biomarkers: Biomarker expressions can be detected and quantified using Target-ready Vevo MicroMarker® contrast agents. For example, P-selectin-coupled Vevo MicroMarker contrast agents can be used as an inflammatory marker in various tissues in the joint region.
Gene transfection and enhanced drug delivery: The SoniGene™ Gene & Drug Delivery System is a device used in conjunction with Vevo 2100 or Vevo 770 system along with injection of Vevo MicroMarker microbubbles. The SoniGene sends a pulse that disrupts microbubbles in the organ of interest. Within the process, sonoporation is induced.  If gene products or drugs are mixed with the Vevo MicroMarker contrast agent infusions, enhanced gene transfection and drug delivery can be induced in the skeletal cells.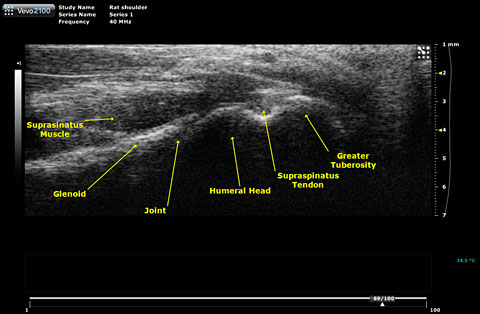 A single rat shoulder image but the anatomy was identified and the function was determined by moving the anatomy in real-time. Imaged using B-Mode on Vevo 2100 system.
A rat shoulder's perfusion changes, pre and post treatment, can be quantified using Nonlinear Contrast Mode (shown here). Imaged using NonLinear Contrast Mode on Vevo 2100 system.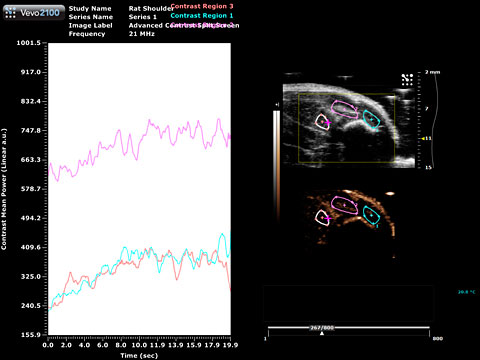 Contrast Quantification of rat shoulder blood flow changes in target tissues done pre/post treatment. Imaged using Contrast Mode on Vevo 2100 system.
Commonly used terminology:
muscle, arthritis, inflammation, osteoarthritis, diabetes