Ophthalmology
Jan 16 2014 - 9:53pm — admin
The excellent spatial resolution and expanded functionality of the Vevo® high-resolution ultrasound system greatly facilitates ophthalmology researchers to visualize and assess the anatomy and function in the eye.
High-spatial resolution up to 30 μm and depth of imaging penetration up to 30mm allows for excellent delineation of the eye anatomy in small and large animal models, ranging from small mouse developing embryos to large full-sized adult pigs. Eye anatomical structures such as (but not limited to) cornea, lens, optic nerve, pupil, iris and ciliary body can be visualized in 2D and 3D. Furthermore, any changes in anatomy and/or tissue texture and brightness in these structures can be detected and quantified.
Quantification of blood flow in the eye: Blood flow in the eye can be detected and quantified at all vascular sizes. For example, Pulsed-wave, Color and Power Doppler can obtain velocity profiles in retinal vein and artery and other vessels in the 100 μm and greater range. To assess and quantify flow in the tissue/capillary levels (e.g. in the retina and iris), contrast imaging with infusion of contrast agents can be performed. Collectively these can provide a detailed hemodynamic assessment in the eye.
Image-guided injection and biopsy: The integrated rail system and the image-guided needle injection system enables needle injections to and biopsies from the eye. Examples of injected material include stem cells and therapeutic agents that elicit response that can be tracked longitudinally.
Detection and quantification of biomarkers: Biomarker expressions can be detected and quantified using Target-ready Vevo MicroMarker® contrast agents. For example, VEGFR2-coupled MicroMarker contrast agents can be used as an angiogenesis marker in retinoblastomas.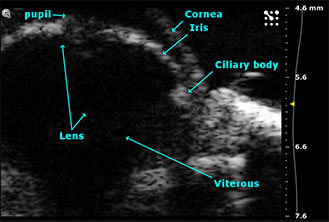 Adjusting the transmit focus allows optimal viewing of both the Anterior Chamber (mouse shown here) or deeper structures such as the retinal wall. Imaged using B-Mode on Vevo 2100 system. 
Blood flow direction in identified vessels by Color Doppler Mode. Imaged using Color Doppler Mode on Vevo 2100 system.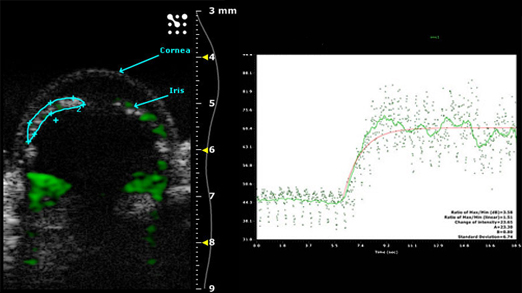 Hemodynamic quantification by Vevo MicroMarker contrast agent in one iris region. Imaged using Contrast Mode on Vevo 2100 system.
Commonly used terminology:
eye, retina, cornea, optic nerve, retinal, macular degeneration, diabetes, lens