Nephrology
Jan 16 2014 - 9:52pm — admin
The Vevo® high-resolution micro-ultrasound system is an indispensible tool for nephrology research in mice, rats and other small animal models. The high spatial resolution of this system allows for excellent delineation of the renal tissue. Furthermore, the numerous features of Vevo ultrasound system and its software extend the researcher's ability to quantify and analyze kidney function.
High-spatial resolution up to 30 μm allows for excellent delineation of renal and renal-related structures such as medulla, cortex, renal vein and artery, ureter, urethra, and bladder in 2D and 3D. Many renal pathologies such as renal failure, polycystic kidney disease, kidney stone and renal cancer can cause changes in renal tissue texture, brightness, shape and size. All of these changes can be detected and quantified with the Vevo high-resolution system.
Quantification of renal function and perfusion: Renal flow can be detected and quantified at all vascular sizes. Pulsed-wave Doppler can obtain detailed velocity profiles in the renal vein and artery, providing measurements of Pulsatility Index, Resistive Index and Renal Artery Peak Velocity. Color Flow and Power Doppler techniques detect and quantify flow in the smaller vessels in the 100 μm and greater range. Contrast imaging with infusion of contrast agents can quantify flow down to the capillary level. Collectively these can provide detailed assessment of renal function.
Quantification of bladder and urethra size can be obtained as changes occur in pathological states. Bladder volume and wall thickness can be measured as well as tumor size and volume.
Image-guided injection and biopsy: The integrated rail system and the image-guided needle injection system enables needle injections to, and biopsies from, the kidney and/or surrounding tissue without the need of a surgical abdominal incision. Examples of material injected can be cancer cells, stem cells or therapeutic compounds.
Detection and quantification of biomarkers: Biomarker expressions can be detected and quantified using Target-ready Vevo MicroMarker® contrast agents. For example, P-selectin-coupled Vevo MicroMarker contrast agent can be used as an inflammatory marker in the kidney.
Gene transfection and enhanced drug delivery: The SoniGene™ Gene & Drug Delivery System is a device used in conjunction with Vevo 2100 or Vevo 770 system along with injection of Vevo MicroMarker microbubbles. The SoniGene system sends a pulse that disrupts microbubbles in the organ of interest. Within the process, sonoporation is induced. If gene products or drugs are mixed with the Vevo MicroMarker contrast agent infusions, enhanced gene transfection and drug delivery can be induced in the renal cells.
Transverse View at the Left Kidney pelvis showing the normal cortex size, renal vessels and ruling out hydronephrosis. Imaged using B-Mode on Vevo 2100 system.
Color Doppler Mode showing direction and pulsing to identify the renal blood flow patterns. Imaged using Color Doppler Mode on Vevo 2100 system.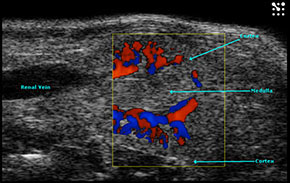 Still Color Doppler Mode image defining the normal cortical/medullary dimensions. Imaged using Color Doppler Mode on Vevo 2100 system.
Commonly used terminology:
kidney, renal, cortex, medulla, adrenal gland