Molecular Imaging for Medical Research
Oct 1 2014 - 12:33pm — admin
Look closer, see deeper, scan in vivo!
Biomarker research contributes significantly to breakthroughs in the understanding of disease progression as well as the validation of therapeutic treatments. Sacrifice less – with new molecular imaging modalities, cellular and molecular events can be visualized in vivo and over multiple time-points. This represents a substantial advantage over terminal techniques that require more animals and have more variability compared to longitudinal studies where an animal can be used as its own control.
The Vevo family of products offers features dedicated to the study of biomarkers and the expansion of this emerging field.
Visualize and quantify . . .
Vascular or tissue specific markers
Multiple biomarkers simultaneously with high resolution in 2D and 3D
Multimodal contrast agents
Molecular imaging can be performed on the Vevo imaging system using two categories of contrast agents: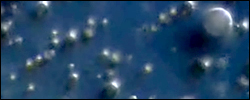 Microbubbles
(Ultrasound contrast)
Imaging performed using linear or non-linear contrast with high-frequency ultrasound
Contrast agents can be targeted or untargeted
Micron-sized agents which stay within the vasculature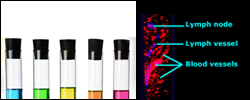 Nanoparticles or optical dyes
(Photoacoustic Imaging)
Imaging performed using photoacoustic technology
Can be targeted nanoparticles or optical-absorbing dyes
Nanometer-sized agents which can extravasate for tissue labelling