Vascular Biology
Jan 16 2014 - 10:11pm — admin
The Vevo high-frequency ultrasound system allows researchers to image arteries and veins and quantify the blood flow through them. The possibilities for this application are numerous. Imagine being able to quantify the flow in vessels such as the coronary artery of a mouse or the abdominal aorta in a rat. With our resolution you can see smaller vessels, such as the Circle of Willis in a mouse embryo. In addition, the vascularity of organs/tissues can be assessed and quantified.
Pulsed-Wave Doppler Mode is a special application of ultrasound. It measures the direction, intensity and speed of blood cells as they move through vessels. The movement of blood cells causes a change in pitch of the reflected sound waves (called the Doppler effect). The signals generated are displayed in graphs or color pictures and represent the flow of blood through the blood vessels or tissues/organs and tumors.
Additionally with the Vevo 2100 system, we have introduced Color Doppler Mode. This allows us to identify arteries and veins with ease and accuracy. It shows us in color, flow disturbances, so we can easily sample in the correct region, to obtain accurate quantification of the vessel you are interrogating.
The system provides both real-time images and Doppler waveforms for measurement and analysis as well as the audio output of the flow dynamics. All can be captured as static images, audio .wav files and animated cine loops for offline review and analysis. In addition, the measurement and statistical data can be exported to any PC or Macintosh-compatible spreadsheet or database applications for further analysis.
Image in real-time the blood flow profiles of all major vessels (arteries and veins) including: renals, hepatics, splenics, carotids and aorta.
Diagnose and assess the extent of vascular abnormalities such as: stenosis, thrombus, atherosclerosis and ischemia.
Evaluate tumor and organ flow: Quantification tools are available in 2D and 3D.

Ascending Aortic Outflow Tract PW Doppler Mode used to quantify systolic function: SV, CO or asses banding models for peak gradients. Imaged using PW Doppler Mode on Vevo 2100 system.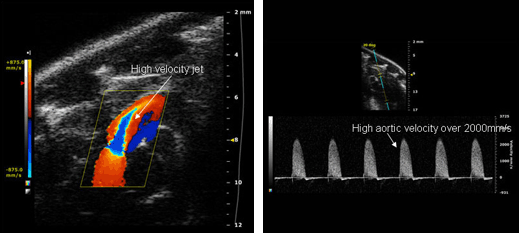 Using Color Doppler Mode toIdentify high velocity jets for aortic valve stenosis quantification. Imaged using Color Doppler Mode on Vevo 2100 system.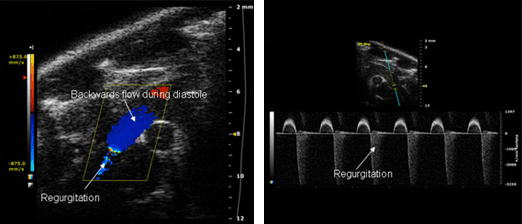 Color Doppler Mode was used to define and quantify high velocity, regurgitant aortic jets but is useful for any valve. Imaged using Color Doppler Mode on Vevo 2100 system.