High Resolution Multimodal Imaging Workshop - Karolinska Institute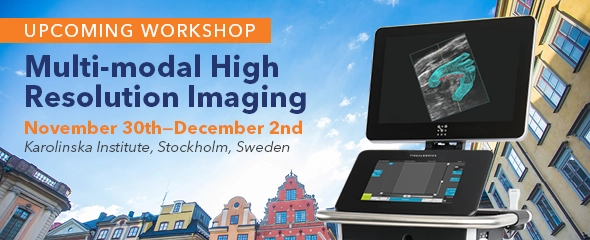 The workshop will include research presentations, hands on sessions and the introduction of FUJIFILM VisualSonics newest ultrasound system: the VevoF2, from low to high frequency imaging and photo acoustics.
Participation is free of charge, but prior registration is required.
Please register by emailing [email protected]
Space in the demonstration sessions is limited; when registering, please specify which of the sessions you would like to attend:
Nov 30 Morning Session: Scientific Presentations
Nov 30 Afternoon Session: Demonstration PhotoAcoustics Cardio Imaging
Dec 1 Morning Session: Demonstration Neurology Imaging
Dec 1 Afternoon Session: Demonstration Oncology Imaging
Dec 2 Morning Session: Open Discussions on Cardiology and Neurology Imaging
We are really looking forward to seeing you there!