VevoStrain™ Advanced Cardiac Analysis Software
Highly sensitive, rapid and non-invasive speckle-tracking-based echocardiographic imaging & enhanced analysis for cardiovascular studies.
VevoStrain™ software is a sensitive tool for assessing myocardial performance and showcasing changes in regional & global heart motion post-infarct or in response to therapeutic agents. The software is optimized for small animal heart imaging.
Vevo 2100 system.
Global wall motion analysis by vector tracking is possible by velocities (shown) strain, strain rate and displacement (a) normal and (b) infarcted mouse heart. Imaged using VevoStrain software on Vevo 2100 system.
Post-processing quantification of myocardial wall abnormalities in circumferential, radial and longitudinal axes of heart motion
Data quantification exportable in .csv format
Quantitative analysis by vector and parametric displays
What is Speckle-Tracking?
Speckle-tracking echocardiography (STE) is a novel method for determining strain and strain rate. The tracking system is based on the distance measurement between 2 stable patterns, or "speckles" on a 2D or 3D echocardiographic image of a left ventricular heart segment during the cardiac cycle. Unlike Doppler-derived strain imaging, STE is angle-independent, thereby minimizing variabilities in the quantification of regional and global LV function.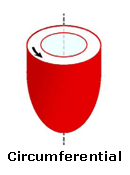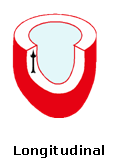 Human and animal Speckle Tracking analysis is based on following the three motion components during an heartcycle: longitudinal, radial and circumferential.
VevoStrain software, is a new quantification tool available with the Vevo 2100 which uses B-Mode speckle-tracking analysis to track wall motion abnormalities. This tool provides both regional and global wall motion tracking, offering quantification of the velocity of the walls, displacement, strain, strain rate and time to peak analysis..
VevoStrain Software for Cardiac Strain Analysis
Strain is a valuable tool in cardiovascular disease, cardiac regeneration, cancer therapeutics, and broader drug development areas. It can be used to sensitively monitor cardiac function and ventricular remodeling for early signs of cardiotoxicity in patients or animal models under anti-cancer therapies (Jurcut et al, 2008). Given their ease of use, high reproducibility, and flexibility, it is no wonder that strain and strain rate are already being hailed as essential tools in the repertoire of any researcher interested in cardiac function.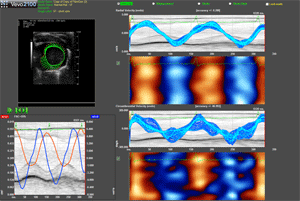 a)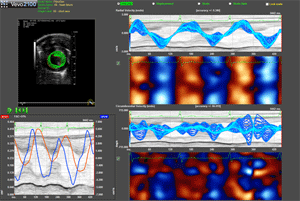 b)
The parametric display allows a quick, global view of a (a) normal and (b) surgically infarcted mouse model along 48 heart sampling points. Synchronous velocities can be seen in the entire healthy mouse heart, while dyssynchrony in wall segments is quickly seen in an infarcted heart. Imaged using VevoStrain software on Vevo 2100 system.
High-sensitivity, in vivo assessment of cardiac function has emerged as an essential new method for evaluating novel therapies and molecular applications in small animal models of cardiovascular disease. VevoStrain software is powerful analysis tool that offers researchers the ability to assess:
Regional & global wall motion tracking
Measurements of displacement, velocity, strain and strain rate
Left ventricular function quantification across both long and short axes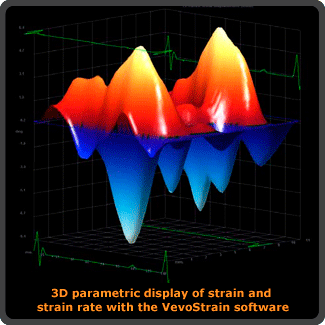 3D parametric display of strain and strain rate with the VevoStrain software. Imaged using VevoStrain software on Vevo 2100 system. 
Research Study:
In comparison to current, conventional echocardiographic measurement methods, VevoStrain speckle-tracking based measures have been found to:
Have greater sensitivity for detecting global changes in cardiac function after myocardial infarct
Allow region-specific functional assessments in infarcted vs. non-infarcted myocardial areas
Identify response to standard cardiac therapy as early as 3 weeks post-myocardial infarction
Bauer et al., "Echocardiographic Speckle-Tracking Based Strain Imaging for Rapid Cardiovascular Phenotyping in Mice." Circulation Research. April 2011.
It's easy to obtain high quality, reproducible data quickly:
Capture small animal cardiac images in 2D
Apply VevoStrain software to acquired data to assess myocardial performance
Jurcut R, Wildiers H, Ganame J, et al. Detection and monitoring of cardiotoxicity-what does modern cardiology offer? Support Care Cancer 2008 May;16(5):437-45