Translational Cancer imaging in preclinical animal models
Jan 17 2014 - 2:39am — admin
The Vevo Imaging Solutions empower Cancer research scientists to meet the translational priorities of today's research. High frequency ultrasound and photoacoustic imaging offered exclusively on the Vevo Imaging products is an established imaging solution with over 300 publications in the last 12 years.
Today's researchers can multiplex data on disease burden with information on changes in the tumor microenvironment and microdistribution of translational biomarkers. Research focus on personalized and precision medicine benefit from image guided development of relevant tumor models and live assessment of experimental therapy.
Use the Vevo. Get discovered today.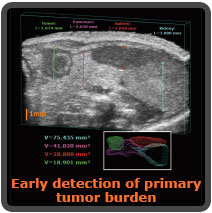 +

High resolution assessment of primary and metastatic burden in soft tissues

Non-invasive and longitudinal visualization of micro margins of pre-palpable tumors
Deep tissue resolution(down to 30 microns) of orthotopic tumors without injectable contrast.
Translatable measurements of the tumor dimensions

+

Rapid assessment on quality of predictive models and experimental therapeutics in minutes

Image guided development of relevant models of cancer progression
Image guided assessment of chemotherapy in real time

+

Multimodal investigation on microenvironment with a histology guided approach

Non-invasive visualization and quantitation of microvascular change in user defined step sections ranging from 50 microns.
Detect live change early in microvascular density, perfusion and molecular oxygenation (Oxyhemo) in one imaging session

+

Non Invasive investigation of translational molecular biomarkers in situ